Fixed download links
Posted by
Koen
- Friday, August 27, 2021 - 09:58 GMT+1
I fixed the download links, they are all served over HTTPS now so that the latest Chrome browser will not block them.

Koen

Command & Conquer Remastered is out now!
Posted by
Koen
- Friday, June 05, 2020 - 21:27 GMT+1
Command & Conquer Tiberian Dawn and Red Alert 1 have been remastered and are out now. I think the game and the movie sequences look really good. Surprisingly, the source code to the game logic has also been released so people can create mods. This is different from what I expected, I am not quite sure how modding on these games will work now. For Red Alert 1, there is the infamous Rules.ini, and that will probably still work in some way. For Tiberian Dawn, TibEd was editing the executable directly, which does not map to the remaster. Time will tell, time will tell.

Koen

Short update
Posted by
Koen
- Saturday, September 22, 2018 - 10:55 GMT+1
It has been silent on this site for some time now. I am keeping it online and just moved it to upgraded hosting. Some people still enjoy using TibEd, so please keep on doing that!

Koen

Making TibEd work with C&C The Ultimate Collection (Origin)
Posted by
Koen
- Thursday, May 16, 2013 - 18:27 GMT+1
Those of you who've been trying to use TibEd with 'The Ultimate Collection' as available on Origin will find that it does not work. Try installing the updated launchers from this topic, and for C&C'95 Tiberian Dawn check this topic.

Koen

TibEd 2 freely available
Posted by
Koen
- Thursday, May 16, 2013 - 18:16 GMT+1
TibEd 2 is freely available, the registration system has been removed (already some time ago). Also, I finished my PhD thesis and defended it 18 months ago. Time flies!

Koen

TibEd 2 will become free soon
Posted by
Koen
- Tuesday, February 15, 2011 - 19:15 GMT+1
Here's a heads up: TibEd 2 will become freely available soon. Therefore, new registrations and orders will no longer be accepted. I still need to find the time to modify TibEd 2 and remove the complete registration system (and release this as a new version). I'm also working on my PhD thesis right now, so I don't know when it will be done exactly.

Koen

TibEd 1.71 update released
Posted by
Koen
- Saturday, December 12, 2009 - 22:18 GMT+1
This update fixes the file association when opening .TIB files through Windows Explorer. Several prequisite buildings were added for the C&C'95: Tiberian Dawn editor.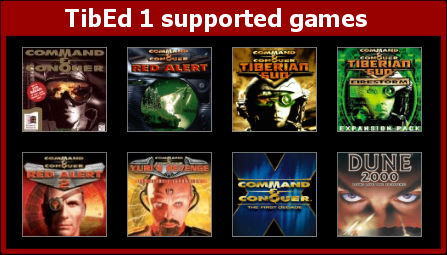 Click here to download TibEd 1.71 (freeware)

Koen

TibEd 1.7 updated with Tiberian Dawn bugfix
Posted by
Koen
- Wednesday, December 02, 2009 - 22:11 GMT+1
If you are trying to mod C&C'95: Tiberian Dawn under Windows Vista or Windows 7, then download the updated TibEd 1.7 and reinstall. The updated installer will set the permissions on the TibEd and Tiberian Dawn folders correctly. This will fix "Access Denied" errors for that game. Other games supported by TibEd 1 were not affected by this bug.

Koen

New CNCNZ Roundtable Discussion on Modding available
Posted by
Koen
- Wednesday, December 02, 2009 - 22:07 GMT+1
This months CNCNZ.com roundtable discussion is a special edition that focus completely on modding classic C&C games like the original C&C, Red Alert, Tiberian Sun, Red Alert 2 and Yuri's Revenge. Yours truly had something to say in there as well, so check it out now by clicking on the picture below or here.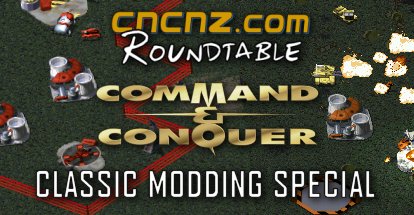 Koen

TibEd 2.1 coming soon: test it now
Posted by
Koen
- Sunday, November 01, 2009 - 19:45 GMT+1
A new version of TibEd 2 with many fixes for Command & Conquer 3 (plus redesigned user interface) is almost here. If you want to test it, get it now on the TibEd forums. If there are no major issues, expect the official release soon.

Koen