Introduction
The first version of TibEd was released several months after the release of Command & Conquer: Tiberian Sun. Only basic editing was supported in that version, and current versions of TibEd offer much more. But the essence of TibEd remains the same: quickly editing units through an interface, and not hiding any options (like some other editors do). This makes TibEd the choice for both beginner and pro mod makers.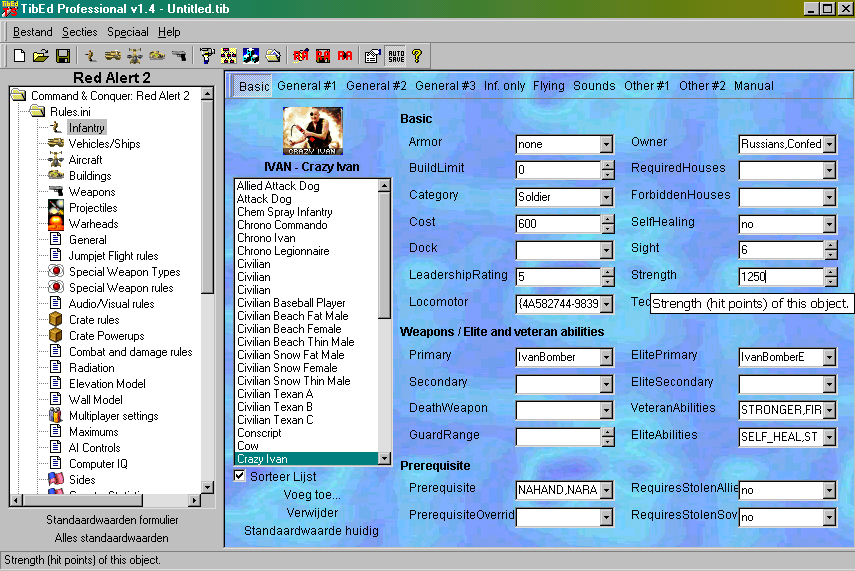 Who says Crazy Ivan should be weak?
(example of the TibEd interface for Red Alert 2)
Another advantage of TibEd is that it supports multiple games. Once you get to know how TibEd works, you can be sure most of that knowledge also applies to the editors for other games. Games supported at the moment are Tiberian Sun, Red Alert 2, Dune 2000, Red Alert 1 and the old Command & Conquer: Windows 95 edition.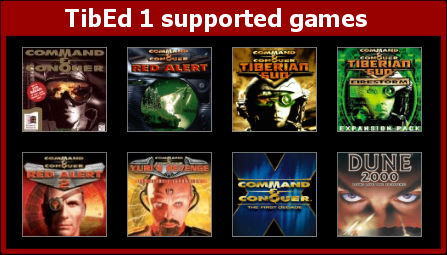 Function overview
Here is a specification of the things TibEd can do (see below for download information):
Edit multiple games with one program! Current games supported:

Command & Conquer: Red Alert 2
Command & Conquer: Red Alert 2: Yuri's Revenge
Command & Conquer: Tiberian Sun (and Firestorm add-on)
Dune 2000
Command & Conquer: Red Alert (and Counterstrike and Aftermath add-ons)
Command & Conquer: Tiberian Dawn (Windows 95 edition)

Edit multiple ini files (such as Rules.ini, Art.ini and others, depending on game).
Changes Browser to quickly inspect your changes
Who-Uses-What Browser: allows you to look up advanced queries, like: which units uses a specific weapon?
Multiple interface languages: English, Swedish and Dutch
Ultra-Fast TibEd EngineTM
View the sidebar images of all units and buildings while editing
Adding of units (cloning and importing) for Red Alert 2 and Tiberian Sun
Fast interface
Edit ALL settings
Importing and exporting
Manual editor integrated in case you don't want to use the interface (check out the Manual tab page).
Save changes to maps (only for Tiberian Sun and Red Alert 2 editors)
Seeing more of TibEd
Then you'd best go to the special screenshots page.
Click here to go to the screenshots page
Download freeware version
You can download a freeware version from the download page.
Click here to go to the download page