9 year anniversary: TibEd 1 now freeware
Nine years ago, the first public version of TibEd 1 was released to the web. According to the download counter, there have been 152,000 downloads over the years, though this number is probably higher due to some breakages in the counter. Now, it is time for the 9 year anniversary edition. Including the new version, there have been 30 releases of TibEd 1. With an anniversary, there are always presents. And this time, the present is for you: TibEd 1 is now freeware.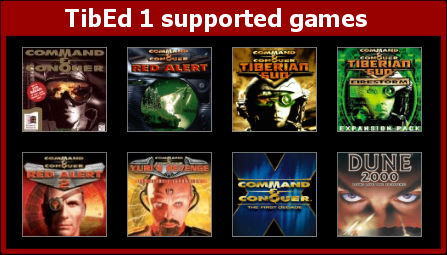 Click here to download TibEd 1 (freeware)

Koen

ColorDescriptor software v1.0 released
While not strictly related to TibEd.net, I will still post it here as well. I have just released color descriptor software that I have been working on for the past period as a researcher. The software can compute descriptors such as color SIFT which can be used for recognition of the content of images and video. For more information on my research, visit my website at the University of Amsterdam.

Koen
PS: be sure to check back later this week for a software release which is very much related to TibEd...

Red Alert 3 is coming
Red Alert 3 is on track to be released to stores next week. I'm looking forward to the game. And hopefully the Mod SDK, required to be able to mod the game, will be made available soon.
To continue the story of the post below, on upgrading TibEd 2 to use Delphi 2009: both main dependecies are now compatible (I ported Python for Delphi myself). However, then I realized there is another dependency, which is now the only one missing Delphi 2009 compatiblity: the DelphiScintilla components. These are used to provide an XML text editor for the Command & Conquer 3 support. Hopefully it will be available soon, so I can start testing for new bugs introduced by the upgrade.

Koen

Status update
It has been quiet here for a while, because I have been working on several projects unrelated to TibEd. The campaign for a Mod SDK for Kane's Wrath has concluded. Unfortunately, it will not result in an SDK anytime soon, but it sent a clear message. It looks like the Kane's Wrath No Logo Mod will be the first and only mod ever created for the game. Although EA has not ruled out creating a Mod SDK sometime in the future, I personally think the SDK would no longer be relevant if not available by Christmas 2008. Feel free to disagree with me. I hope that during the Christmas holidays we get to play with an SDK for Red Alert 3, because my personal experience is that most mods and utilities are started in those two weeks of the year.
In the meantime, I have been looking at the programming languages that TibEd is written: Delphi and Python. Both are receiving major updates (Delphi 2009 and Python 3) to better support unicode (foreign human languages), which add the requirement to TibEd 2.x that at least Windows 2000 is used. However, in order to upgrade to Delphi 2009, all components used need to be compatible first (most importantly ExpressVerticalGrid and Python for Delphi). As Python 3 is still in the release candidate stage, I have spent some time today upgrading to Python 2.6 instead. This needed some minor updates to Python for Delphi, which I have posted here.

Koen

Maps, mods or balance patches for Kane's Wrath?
Around the C&C community, there are currently polls on what EA should give the highest priority for C&C3: Kane's Wrath. I will follow the poll from CNCNZ: what is most important to you? Improvements to the map editor, a Mod SDK or general balance patches to the game (to fix bugs in the game itself). Being a mod site, I will explain the Mod SDK further: without a Mod SDK, it is impossible to make mods for Kane's Wrath. TibEd for C&C3 relies on the C&C3 Mod SDK to work. Without a Mod SDK for Kane's Wrath, there will be no TibEd for Kane's Wrath. In fact, there will be no mods for Kane's Wrath at all (but you can still make mods for C&C3, you just cannot mess with the new stuff from Kane's Wrath).

Please vote in the poll on Kane's Wrath priorities on CNCNZ

Koen
PS: I would like to make a poll myself, but I am currently in Alaska which makes setting up a poll kind of difficult.

TibEd 2 beta 5f: improved C&C3 editor
After uploading an updated version of TibEd 2, I realized it has been several months since I last announced a new version on the frontpage. Therefore, without further ado, I bring you TibEd 2 beta 5f. Compared to the previous version, many bugs and minor issues have been fixed with respect to editing C&C3 XML files. Please note that this version does not yet have a GUI editor, like you are used to in TibEd. This will hopefully follow soon. You can give feedback on this version in this forum topic.

Download TibEd 2 beta 5f with C&C3 editor

Koen

C&C3 No Logo Mod for Kane's Wrath
Do you like waiting 10 seconds for the EA logo movie to play when C&C3 or its expansion, Kane's Wrath, starts?
If not, then you should definitely check out the C&C3 No Logo Mod!
There is now a version available for Kane's Wrath as well. It works exactly the same as the original for C&C3: download, install and never worry about the EA logo again. The great thing about this mod is that you can still play online with it. The mod comes with an uninstaller as well, though I cannot imagine why anyone would ever want to part ways with the No Logo mod!

For the impatient: Download CnC3 Kane's Wrath No Logo Mod now!

Koen
PS: For those of you who recently picked up the pack of both C&C3 and Kane's Wrath in the same box, you want to install the CnC3 No Logo Mod for the original game as well.

Command & Conquer 3 expansion Kane's Wrath now available
I have been playing the Command & Conquer 3 expansion Kane's Wrath for a little bit, and it is very good. The missions are quite difficult when played on hard difficulty, so it should provide a greater challenge than the original C&C3. I like it a lot better so far than ordinary C&C3, but I will keep you posted. If you are just getting started with Kane's Wrath or have any problems, be sure to check the Launch Guide on the official C&C3 website.

Koen

Command & Conquer 3 expansion Kane's Wrath gone gold
The first expansion pack for Command & Conquer 3, Kane's Wrath, has gone gold. This means the bits of the game are done. It will now proceed to manufacturing plants around the world, preparing for a world-wide release between March 26th and March 28th.

Koen

Red Alert 3 confirmed by Electronic Arts NL
The rumors about the upcoming Valentine's day announcement on the official Command & Conquer website, supposedly the announcement of Red Alert 3, are not rumors anymore. When contacted by Dutch website Tweakers.net, Electronic Arts has confirmed that the theme of this announcement will be Red Alert 3.

A Dutch quote from the original article:
"Deze aankondiging zal in het teken staan van Red Alert 3, zo heeft EA tegenover Tweakers.net bevestigd."

The literal translation would be:
"This announcement will be about Red Alert 3, EA has confirmed against Tweakers.net."

The April issue of PCGamer is expected to carry additional details: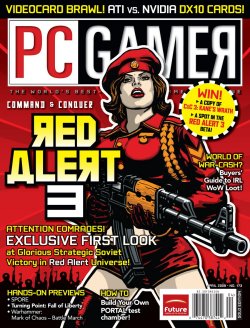 .

Click here to discuss the announcement in the CNCNZ Forums

Koen

TibEd / CNCNZ Forums upgraded
The TibEd support forums, which are a subsection of the CNCNZ forum, have been upgraded from phpBB 2 to Invision Power Board. Feature-wise its looking very good. And no doubt Sonic will bring back a "CNCNZ blue skin" in no-time.

Koen

VPatch 3.2 is ready
I have synced VPatch with the NSIS Subversion repository, and added several features by request. Go to the VPatch website for more information.

Koen

Preview of the current TibEd development version
I've made some internal changes in TibEd 2 with the goal of bringing GUI editing to Command & Conquer 3: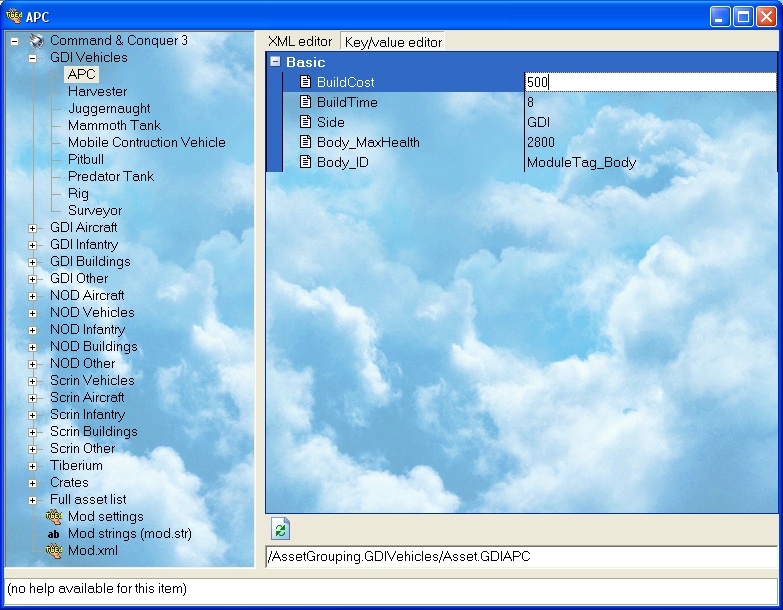 As you can see above, I've gotten it to work now. If you want to help out a bit, download the current beta 5e from the forums. This version does not have the GUI yet, but it needs some solid testing: the GUI of the next version will build on top of this (compared to beta 5c, a lot of stability improvements have been made, but new problems may have been added).

Koen

CNCNZ Roundtable Discussion mentioned on Command & Conquer TV
The CNCNZ Roundtable Discussion #3 got mentioned on Command & Conquer TV: Aftermath (episode 4). It is always funny when English-speaking people pronounce my name, because community manager Aaron Kaufman lists all the participants. The item of interest starts at 2:40s into the video.

Happy New Year, by the way!

Koen